Lavish Party Bus in Toronto
When you need party bus rentals in Toronto, call us first. We have the largest selection of luxury limo buses as well as limousine vehicles for your event. We cater to all types of exciting events such as weddings, proms, graduation parties, bachelor parties and more.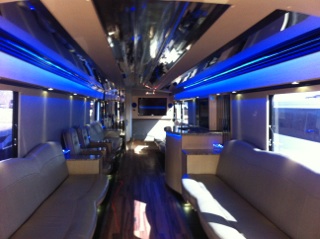 Using one of our Toronto party buses is not just a way of making your even more exciting, it is also the best approach to the most luxurious transportation ride that you will ever take. Our limousine bus rentals come with the latest and the greatest features that include such things as iPod surround sound, minibars with cool refreshments. A just married sign is included if the event is a wedding, and we'll usually throw in a bottle of champagne to help you celebrate in style. Is there a better way to party with your friends than in one of our awesome limousines? Probably not, especially because our we have the best reputation in the GTA.
A Great Team

Our chauffeurs, our drivers and our customer service staff are the best at what they do. Furthermore, they are all dedicated to providing the highest quality customer service and customer satisfaction. We will work with you to find out your exact transportation needs and then we will inform you about the available options for a great selection of limos. Our party vehicles are all equipped with the latest technology to make your trip and your night more enjoyable and more fun. Our managers are ready to assist in case of any problems. However, we usually take care of these before they even happen. We also plan ahead and consider road closures and construction to ensure that you arrive at your destination on time. We will advise you if there are any unforeseen circumstances in your route and will tell you about the best way to handle the problem.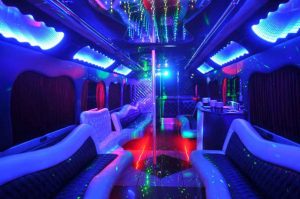 Our team of professional chauffeurs know Toronto and the surrounding areas of the GTA very well. They also use the most advanced GPS technology to ensure that you are not late to your destination. We always double check the address with you to ensure that no mistakes occur in the mapping process. Furthermore, our drivers have mobile phones and can be contacted in case of any issues or schedule changes.
We have a great selection of different sizes. With a grand fleet that includes limousine buses that can carry anywhere between fifteen to fifty passengers, it is easy to find what you are seeking. Some of our vehicles come with a dance floor, and some of the larger models even have a dance pole. Others have a bathroom inside them and can fit more than forty passengers. That is a lot of friends together! We make your choice simple. When you need a party bus in Toronto, Diamond is here to provide an experience like no other!
Using our limo bus rentals is not something that you can ever get used to. It is an event like no other, and it is a ride that is sure to make memories for you and your friends for a long time. We stand behind our amazing fleet of limousines, and we are certain that you will the time of your life in our amazing vehicles.
Great Customer Focus
We deliver quality transportation services for all your special events. Whether you need to hire one vehicle for a one-way ride, or if you need to rent party buses for an evening in Toronto we have the perfect vehicle for you. Call us today and let us take care of all your travel needs. We are sure you will be satisfied and will come back for more of our luxury transportation options.
Call Diamond Bus Rentals today and feel the difference that luxury makes.